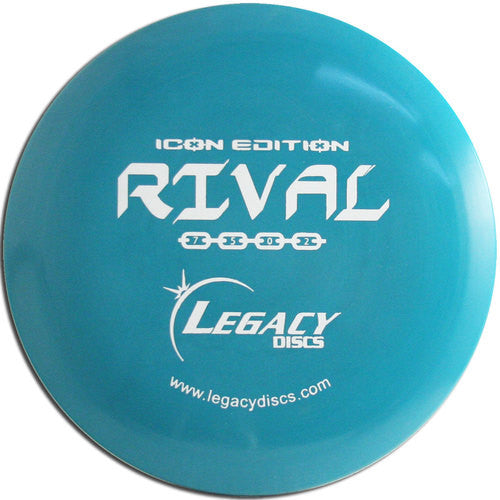 Legacy Discs
SOLD OUT - Legacy Rival Icon
---
The Legacy Rival is currently available in Icon and Pinnacle Edition plastics. It is a fairway driver, rated by Legacy as:
Speed: 7
Glide: 5
Turn: 0
Fade: 2
When thrown as intended it should have a straight flight with a medium hard finish.
The advantage of having the Icon Edition in your bag is that it has the fastest flight. The distance in this edition of plastic is phenomenal despite any weather conditions. It is grippy, and has a consistent flight pattern. This is a true go to disc when you want that extra power on your shot. There is not a better choice of plastic to use when throwing into a head wind.
Tags: Fairway Driver Icon Opaque Overstable Stable
---
Share this Product
---
More from this collection