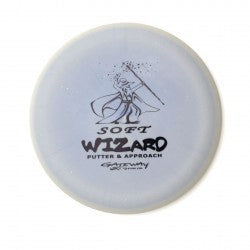 Gateway Disc Sports
Gateway Wizard Soft
---
The Gateway Wizard™ is a true, stable workhorse putter. The Wizard holds whatever line you throw it with very little fade during its drop, and is also a great putter in windy conditions. While stiff enough to hold its line on long putts, the Wizard's plastic is grippy enough to grab chains every time.
The Wizard handles controlled power very well, thus makes an excellent choice off the tee for midrange drives, in addition to upshots. The Wizard is a very consistent and accurate disc that should find its way into your bag.
SOFT (S) - 19-24 lbs of flex
Super Soft (SS) - 14-18 lbs of flex
Super Stupid Soft (SSS) - 9-13 lbs of flex
Really Freakin' Flexible (RFF) - 5-8 lbs of flex
Sure Grip "S"
Custom engineered blend of plastic that produces a durable, grippy disc great for both feel & performance!
Tags: Beaded Gateway Opaque Putter S-Series Soft
---
Share this Product
---
More from this collection