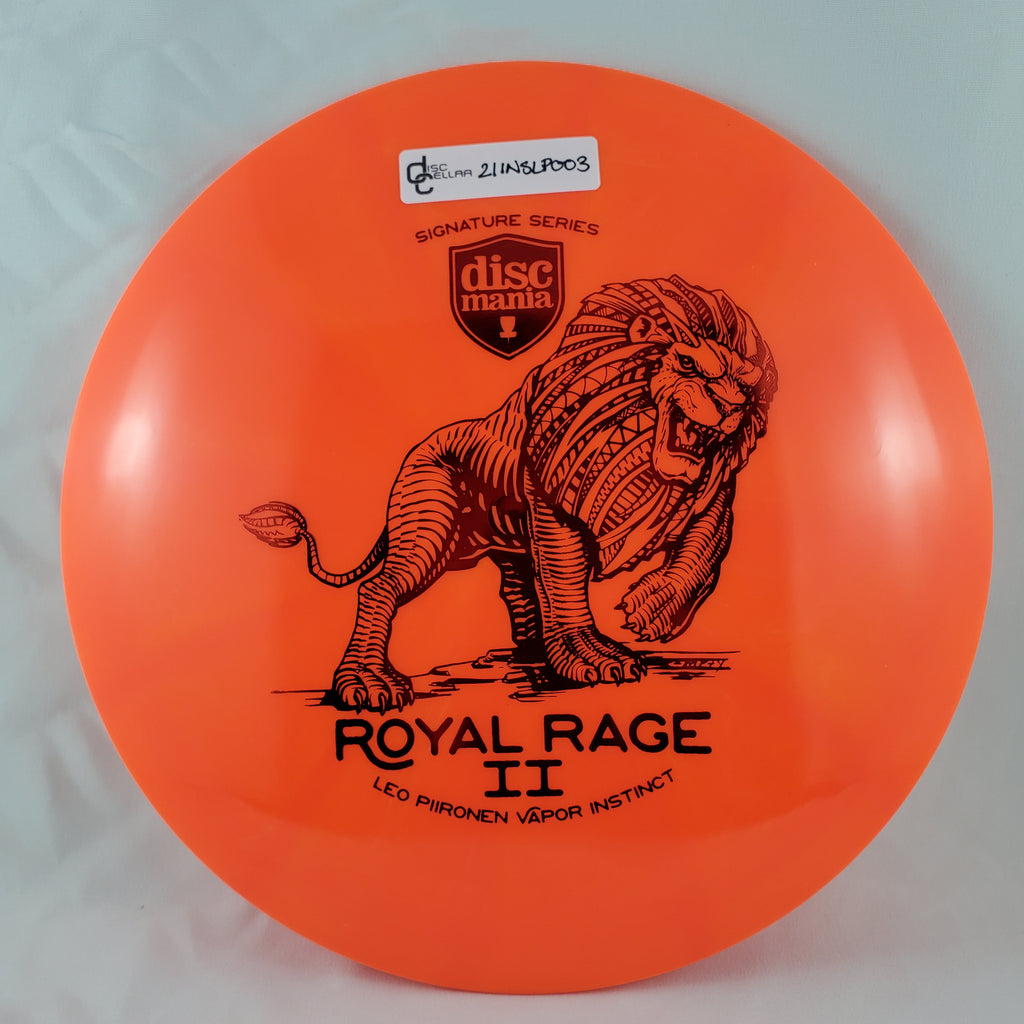 Discmania
Discmania Evolution Instinct Lux Vapor - Royal Rage 2 - Leo Piironen Signature Series 2021
---
The 2nd coming of Leo Piironen's smash-hit Signature Series disc Royal Rage takes the form of one of our most popular Evolution line models, the Instinct!
These "RR2's" are served with the juicy Vapor plastic that offers a great grip accompanied by eye-catching color schemes. To be a little more clear, the Vapor plastic in this context means a premium plastic blend reminiscent of our specialty Lux material with the Vapor-striped colors. The Instinct has not been previously offered in this plastic blend.
Each disc sold directly benefits Team Discmania's Leo Piironen on tour.
Note: the original Royal Rage was a Discmania Original (manufactured by Innova) in colour glow C-Line and a retooled FD2. So this is not the same mold as the previous Royal Rage.
The Instinct is the first fairway driver and the very first disc released in Discmania's Evolution line. It offers the perfect blend of control and stability, resulting in a fairway driver that can be depended on for touch shots as well as big crushes down the fairway. The disc is a glide machine and makes your control drives longer. Evolve your game by trusting your instincts!
Good for: Control drives, sidearms, for advanced and Pro players
Speed: 7
Glide: 5
Turn: 0
Fade: 2
Discmania Evolution line is manufactured by Latitude 64.
Discmania's Evolution line Vapor plastic has a very durable and grippy composition while the added benefit of swirls give each disc a one of a kind look. Swirls of each disc will vary in terms of swirl variety, color, and swirl placement.
Name: Instinct
Approved: 2019
Diameter: 21.2 cm
Max Weight: 176 g
Height: 1.9 cm
Wing Width: 1.8 cm
Rim Depth: 1.1 cm
Discmania Evolution discs are manufactured by Latitude 64.

Tags: Discmania Discmania Evolution Latitude 64 Leo Piironen Midrange Opaque Overstable Signature Series Vapor
---
Share this Product
---
More from this collection