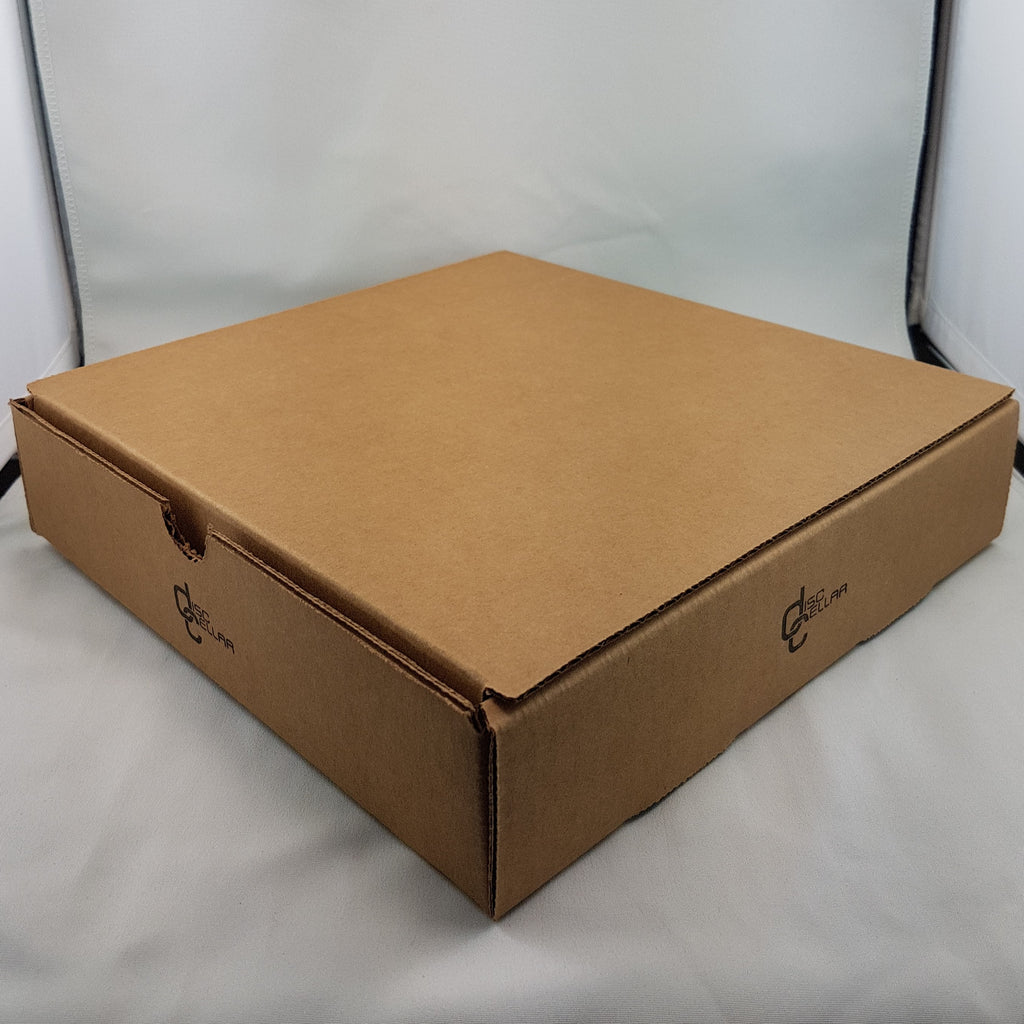 The Disc Cellar
Deluxe Box - Subscription
---
The Deluxe Box is the regular subscription box from The Disc Cellar.
What's in the box?
The box will consist of at least one disc, but on rare occasions it may consist of multiple discs. The deluxe box will also include pack-ins. These may be promotional items, or accessories.
Am I getting a discount by being a subscriber?
Yes, and no. The disc(s) and accessories are guaranteed to be worth at least the price of the box (based on our retail pricing). 
What sorts of Discs will be included?
Discs will tend towards new releases or newer molds, and will probably skew heavy (as many manufacturers simply do not produce much in the way of light discs). We will be including discs from different manufacturers, so when exposing subscribers to a different manufacturer we may not always choose their newest model.
Will there be custom stamps?
Yes, the very first disc included in the box is a special custom stamp. We anticipate working with artists over time to include additional custom stamps to subscribers. Although these stamps may be available through other means, we'll go out of our way to make the ones included in the box special if we can.
Will there be event stamps?
Probably, although we have no specific plans relating to this at the moment, many manufacturers reserve some of their models or plastics for events. So we may partner with the occasional event in order to secure some rarer discs.
Will there be prototypes, first runs, or other exclusives?
We hope so, but at this point it's not something that we can guarantee.
Are there other benefits to being a subscriber?
You bet!
Shipping
When you order your box, you pay for the shipping, so nothing special there. However, if during the month you order other discs, you will be able use the discount code "SUBSCRIPTIONBOX" and we'll add those discs to your monthly subscription box, and they will ship free. (maximum value $50 shipping credit, in Canada only)
Exclusive Offers
Periodically we'll make offers available to our subscribers. These may be exclusive subscriber only offers, or they may be released to subscribers first. Either way you'll be at the front of the line.
Are there other options?
Yes!
Double, Triple and Quad Deluxe Box
If you want to double, triple or quadruple up you can pick those subscriptions. You'll get 2, 3 or 4 times as much stuff as the regular Deluxe Box. These options are perfect for a couple of scenarios: one to collect and one to throw, or subscribe with friends and save on shipping.
Basic Box
The Basic Box is like the deluxe box, but it doesn't include the additional pack-ins, just the disc(s). So if you don't want more swag, this is the option for you. Also available in Double, Triple and Quad.
Why isn't shipping included in the base price of the box?
As much as we'd like to offer free shipping, given the vast size of Canada and the lack of flat rate shipping options, we'd have to raise the price on the box entirely too much, and it would result in free shipping but not in fair pricing. So we've priced the boxes without shipping at a fair rate, and the shipping speed and cost is up to you to decide.
When will boxes ship?
The plan is to ship all boxes starting the 15th of the month, at least that's the target. We may revise this as time goes on, based on shipping times or other unforeseen issues. The intention is that everyone will have the discs by the end of the month.
When will I be billed?
You are billed for the first box when you place your order and subsequent boxes on the 7th of the month.
How do I cancel my subscription?
You need to login to your customer account to end your subscription: https://shop.disccellar.ca/account/login?manage-subscriptions. If you have difficulties contact david@disccellar.ca. Any unshipped boxes can be refunded, and future boxes will be cancelled.
Tags: Box Mystery Box Subscription
---
Share this Product
---
More from this collection